Summer Reading Book Review: A Court of Wings and Ruin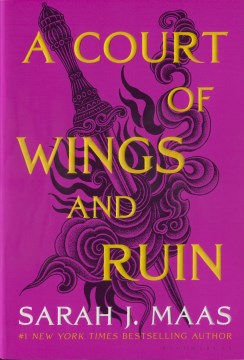 Book Title: A Court of Wings and Ruin
Author:
Sarah J. Maas
Reviewed By:
Alexa H.
It's an epic finale to a wonderful series. Filled with strong female characters, a blend of magic, and all the romance you could want, this book left me with nothing but happiness. You cheer for the love that comes from family, friends, and soulmates while finding that good does conquer evil, even if there are some sacrifices to be made.
Why you picked it up:
I love everything Sarah J. Maas writes.
Why you finished it:
No choice. It was THAT good.
Who you would recommend it to:
Anyone who loves fast-paced adventure stories, love stories, and stories where females are strong and capable to save the world.
Find A Court of Wings and Ruin, a downloadable ebook, in our eRead Illinois catalog.
Summer Reading program participants! Submit a review of one of the books you read this summer. Your review will get you an entry into a special prize drawing in addition to the drawings for all program finishers. More prizes! Yay!
All you have to do is fill out our online form or email a short review (at least 5 thoughtful sentences - without giving away the ending!) to news@roselle.lib.il.us.
Labels: 2017 Summer Reading, A Court of Wings and Ruin, Adult Book Review, Alexa H., Book Review, Roselle Public Library, Sarah J. Maas, Summer Reading Book Review